today

label Blog
remove_red_eye

431 views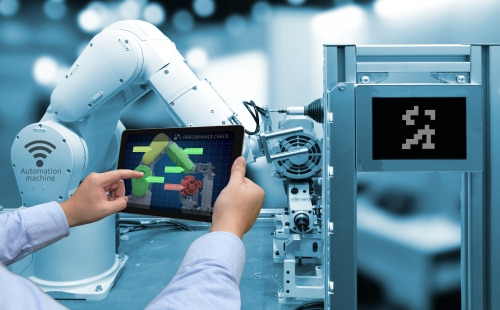 Industry 4.0 automation is the basis for future-proof industrial operation and monitoring. Find out how automation systems change.
Despite the strong setback imposed by the two years of the pandemic, the manufacturing world and industry 4.0 automation are constantly evolving today. Between new operational needs and renewed business objectives, even automation systems adapt to the latest trends, from global trends to those coming from the world of industry.
Industrial automation and environment
Automation systems, today more than ever, meet sustainability. The manufacturing sector is now called to environmental responsibility and is constantly committed to reducing emissions and intelligent use of resources, a strategic key to present and future business models. Industrial automation also plays its part, offering energy efficiency, access to intelligent production and automation systems with reduced environmental impact. Green technologies and industry 4.0 automation are the beating heart of sustainable innovation, which aims to reduce waste and optimize the production efficiency of companies, not only with the aim of profit but also to protect the planet. The trend is to move towards an increasingly intelligent and ecological factory, characterized by green processes and sustainable development.
Industrial automation and cyber security
The diffusion of interconnected industrial technologies and the ever-increasing amount of sensitive information and data expose companies to the risk of attacks, potentially harmful for the entire universe of industry. The protection of IT systems passes first of all from the employees, for whom specific protocols and training courses are studied and distributed in order to guarantee less vulnerable production, safeguard relations with customers and suppliers and protect the corporate reputation itself. Even industrial automation systems are today more oriented towards IT security, with increasingly agile and efficient solutions to avert potential attacks and prevent serious accidents.
Industrial automation and maintenance
Another trend in the world of industry 4.0 automation is predictive maintenance and, when possible, remotely. Industrial computers for automation are able to monitor their status and provide evaluations and feedback in real time, so as to collect production data from each individual process to then carry out preventive actions and identify any anomalies, as well as plan ahead maintenance activities. Even in the event of a malfunction, industrial PCs can automatically generate a service request before the problem reaches a critical state and imposes downtime and further complications.
Industrial automation and flexible automation
Flexible automation is the new frontier of automation systems, capable today of rapidly changing the type of work for which they are intended, without the need for reconversion costs. In this way, the industry is able to contain production costs and guarantee a wide range of customizations compared to standard mass production. Whatever your goals, the new era of industrial automation has already begun, with intelligent solutions in the name of environmental sustainability and IT security. If you are looking for a reliable partner, choose Elmak's experience even in the most complex environments to obtain the highest levels of functionality, design and performance.