today

label Blog
remove_red_eye

313 views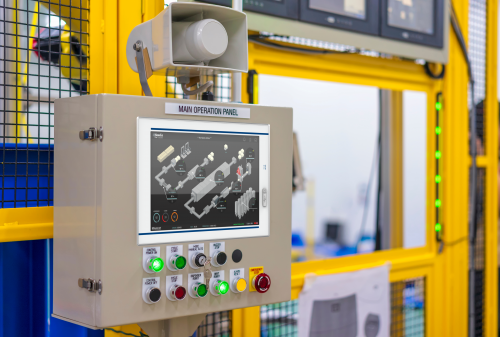 From industrial automation HMI panel PC to other HMI solutions, here's what they are, how they work, what benefits they bring and everything you should know about industrial HMI automation.
What do we mean when we hear about HMI solutions and industrial HMI automation? The acronym stands for "Human-Machine Interface" and refers to a technology that enables simple and immediate communication with machines and systems in an industrial plant. This type of technology can take many forms, from a tablet to a dashboard embedded in machinery, with a central structure or several interconnected devices. Thanks to the ever-increasing number of connected devices, HMI automations are able to integrate with IoT technology networks, collecting voluminous and complex data. The spread of HMI solutions is increasing in parallel with the spread of IoT. The aim of industrial HMI automation is to help industries cope with the ever-increasing complexity of plant and infrastructure management, allowing access to operational data and direct control over machine actions.
Using HMI solutions and industrial HMI automation
Solutions such as displays and touch screens for industrial automation HMI panel PCs are designed to allow a high level of customisation for targeted configuration according to the specific needs of each sector. Firstly, the manufacturing sector is certainly the one that makes the most use of HMI automation, from textiles to paper, pharmaceuticals, electronics, food and much more. HMI solutions are extremely flexible and can be adapted to the complexity of the system they are installed on and to the purpose they are intended for, whether it is to control plants, change parameters, increase productivity or more. For this reason, HMI automations are important resources in the control of buildings, plants and vehicles to support many professionals, including engineers, machine operators and system integrators. HMI solutions are typically used in the industrial environment for graphical user interface displays, so that data and information can be visualised using diagrams, tables, images and other visual elements to facilitate interpretation. Corrective action is also facilitated, as warnings and emergencies can be handled quickly and accurately directly from the screen.
Why adopt industrial automation HMI panel pc and other HMI solutions?
Industrial HMI automation aims to help operators manage the complexity of industrial control systems, which are increasingly complex and constantly evolving, thanks to clear and extremely flexible interfaces. Agile communication with machinery generally allows the production cycle to be optimised, but let's take a look at some of the main advantages of HMI solutions:
Ease of use, thanks to the reporting of data using easy and intuitive tools such as graphs, tables, images, often with indicators that emphasise the most significant and urgent information;
Customisation, that is the ability to set up and modify HMI solutions to suit your needs;
Increased efficiency, thanks to the constant monitoring of information that allows changes and corrections to be made in real time, thus also reducing downtime and waste;
Prevention: the reporting and data analysis of HMI industrial automation systems allow the identification of any anomalies in machinery and equipment, so that errors or malfunctions that could slow down production can be prevented;
Remote control, to control operations from the office, from home, while travelling or anywhere else at any time;
Overview: HMI automations allow you to control all machine performances from a single device, so that you always have an overview of the entire production cycle, monitor its progress and promptly correct any errors. In addition, all users can access information in real time and constantly update the entire department.
In an increasingly competitive and complex market, with data collection and analysis playing a decisive role in industrial processes, the future of industrial automation lies in HMI solutions. For this reason, HMI automations are also destined to introduce and integrate with Artificial Intelligence and Virtual Reality, in the quest for more and more higher performances.